Newsletter
The Update: July 2018 Newsletter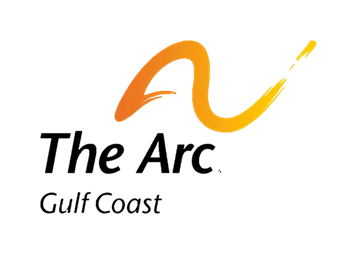 THE UPDATE
JULY 2018 NEWSLETTER
WELCOME TO OUR NEW BOARD MEMBERS
Congratulations to the winners of our 2018 Board Election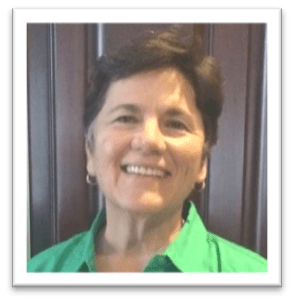 NORINE JALOWAY-GILL
PRESIDENT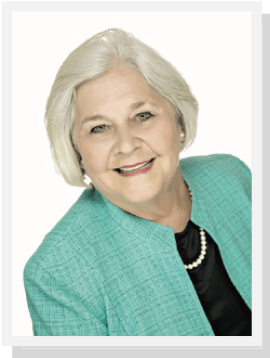 SHIRLEY BROTHERS
Vice President
GEORGEANNA SANTIARELLI
SECRETARY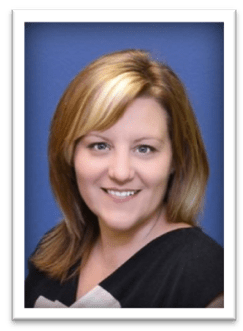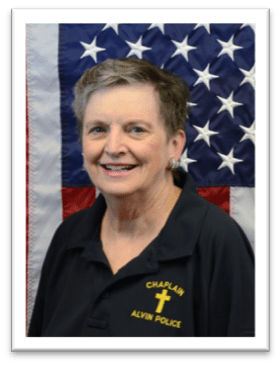 JUDY ZAVALLA
PARLIAMENTARIAN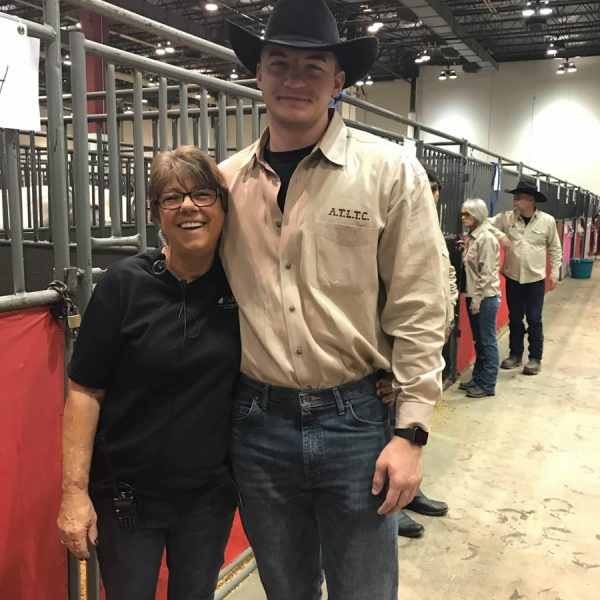 ERIN MARKS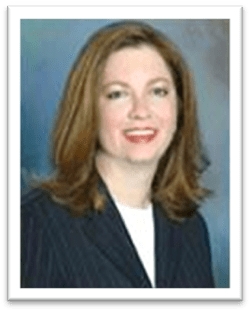 KIM HEGWOOD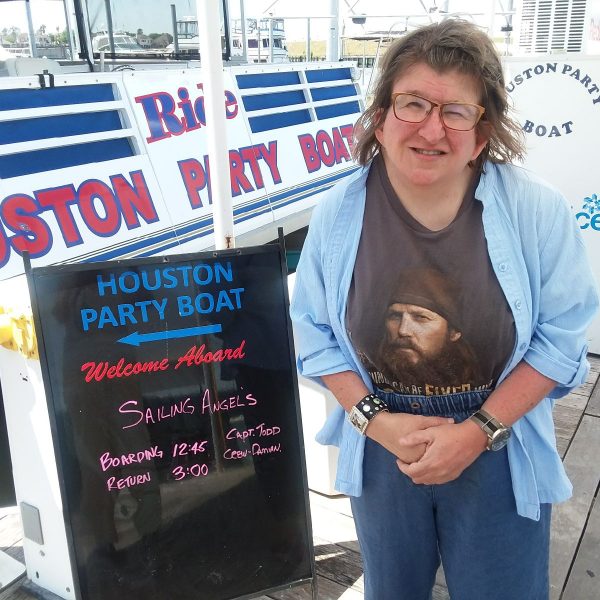 AMANDA MILES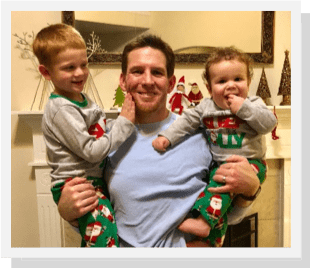 PATRICK MONAGHAN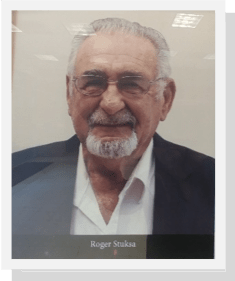 ROGER STUKSA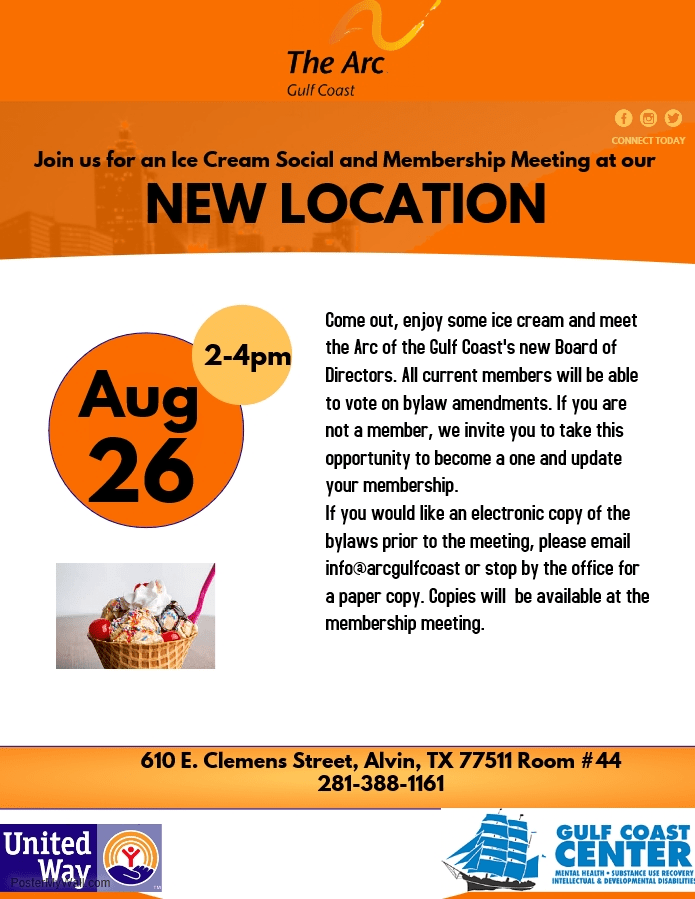 ICE CREAM SOCIAL & MEMBER MEETING
AUGUST 26, 2018 | 2PM TO 4PM
Come out, enjoy some ice cream and meet the Arc of the Gulf Coast's new Board of Directors. All current members will be able to vote on bylaw amendments. If you are not a member, we invite you to take this opportunity to become one and update your membership.
If you would like an electronic copy of the bylaws prior to the meeting, please email info@arcgulfcoast.org or stop by the office for a paper copy. Copies will be available at the membership meeting.
NEW ADDRESS: 610 E. CLEMENTS ST ROOM #44 ALVIN, TX 77511
A MESSAGE FROM OUR TREASURER
BY LORIN FURLOW
Greetings Members! The Arc believes in self-determination and self-advocacy. We believe that people with intellectual and developmental disabilities, with the appropriate resources and supports, can make decisions about their own lives and must be heard on issues that affect their well-being. I have had the pleasure of collaborating with the Arc of the Gulf Coast on their Enhancing and Measuring Parent Outcomes with Education and Resources (EMPOWER) events throughout the past two years. I have seen firsthand the education and resources that are provided making a difference in the lives of children and adults with intellectual and developmental disabilities and their parents/guardians. A parent shared with me at our February Behavior training, "This was wonderful information and resources…I feel like I understand these concepts so much better and I know that will help me to support my child's learning, my conversations with educators, and most importantly my child's progress towards independence!"
While we are gearing up for another amazing year of EMPOWER events, we need your help to make our efforts go further!
You can help us, and your supports are crucial to supporting our efforts in getting quality resources into the hands of parents of children and adults with intellectual and developmental disabilities. If you are able, we would love for you to make a donation to help us continue to achieve our mission and support our core value of self-determination!
Thank you in advance for your contribution!
HERE ARE WAYS TO MAKE A DONATION
The Arc of the Gulf Coast
P.O. Box 1484
Alvin, TX 77512
Call us and make a gift
281-245-3918
MATCHING GIFT CONTRIBUTION
The Arc of the Gulf Coast is a 501(c)(3) tax-exempt organization, and your donation is tax deductible. Your contribution to The Arc may qualify for a match from your employer.
Here is the information generally needed on a corporate match form:
Organization: The Arc of the Gulf Coast
Please call our office to obtain our Tax-ID
Contact information: The Arc of the Gulf Coast
204 W. Coombs St, Alvin, TX 77511
THANK YOU
Thank you to United Way Galveston County Mainland, United
Way Brazoria County, and Gulf Coast Center for their continuing
support of The Arc of the Gulf Coast.
A special thank you to Soroptimist, Alvin Noon Lion's Club, Marguerite Edwards Foundation and Alvin Sunrise Rotary Club.
TIP OF THE TOP HAT
TO OUR NEW AND RETURNING MEMBERS
Stan Bachman
Adrian Bellman
Sini Bipin
Linda Blankenship
Betty Bludworth
Kim Bowers
Shirley Brothers
Ricky Broussard
Steve Bryant
Heather Burdeaux
Marcia Carpio
Stacy R. Clark
Deanna David
Brenda DeVaul
Paula Frankin
Lorin Furlow
Kerry Gaughan
Lindsey Gaughan
Jeanne M Goodman
Lynn Grell Boethel
Holly Hall
Kim Hegwood
Ed Jaloway
Nancy Jermain
Les Johnson
Barbara Lenamon
Thomas C Mattes
Katheryn A. Mattes
Lauryn McNeil
Amanda Miles
Patrick Monaghan
Nicole Morales
Renee Nichols
Jason Nichols
Kaycee Orman
Ben Perez
Modelle Roberts
Carolyn Rose
Leslie Rowland
Claron Salter-Clark
Georgeanna Santarelli
Sree Sredhar
Roger Stuksa
Kathy Terwilliger
Judy Venoy
Jaime Vanvakias
John Vanvakias
PROMOTING SELF-DETERMINATION ON THE VIRGIN ISLANDS
BY NORINE JALOWAY-GILL, PRESIDENT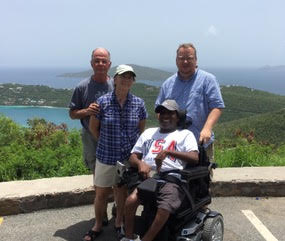 Ricky Broussard, Imagine Enterprises' Peer Support Leader, traveled to the US Virgin Islands on June 25, 2018 sponsored by the USVI Council on Developmental Disabilities to present on living a life with self-determination. Ricky presented to individuals with developmental disabilities living on the islands of St. Croix and St. Thomas. He talked about the importance of the circle of support to create and implement a personal plan for your future.
Ricky shared that he met wonderful, kind people through his travels, and that it is evident that the US Virgin Islands are still in recovery from two hurricanes in 2017. Many families lost their homes and it is very slow to rebuild with the current resources. Thanks to a donation from Frederick Jefferson, the Arc of the Gulf Coast sent 20 weighted blankets, several pairs of noise canceling headphones along with games and sensory toys for individuals with autism and sensory processing disorders. Much more is needed to help individuals and families get back to their everyday life prior to the Hurricanes.
Traveling with Ricky was David and Norine Gill and Ricky's personal support Robert Anderson. Although very small, the accessible transit system on both of the islands were well organized and all of the drivers were helpful and knowledgeable. One of the unexpected travel experiences was a 2.5 hour ferry ride from St. Croix to St. Thomas! There was a lot to see, wonderful people and great seafood.
Ricky volunteers with the Arc of the Gulf Coast, the Arc of Texas and the Gulf Coast Self Advocates to promote living a full, meaningful life in the community. He works for Imagine Enterprises as the Peer Support Leader, sharing his story and mentoring others to have their own voice and individual plan. His motto is "nothing about me without me."
Our office is moving August 1, 2018!
Please note our NEW physical address:
601 E Clements St Room #44 Alvin, TX 77511
UPDATES FROM THE GULF COAST SELF-ADVOCATES
GCSA'S WITH SAILING ANGELS
GCSA GARAGE SALE
JOE'S BBQ FUNDRAISER
GCSA'S FRIDAY NIGHT OUT BOWLING
SWING FORE THE ARC
THANK YOU TO EVERYONE WHO ATTENDED OUR TOP GOLF FUNDRAISER!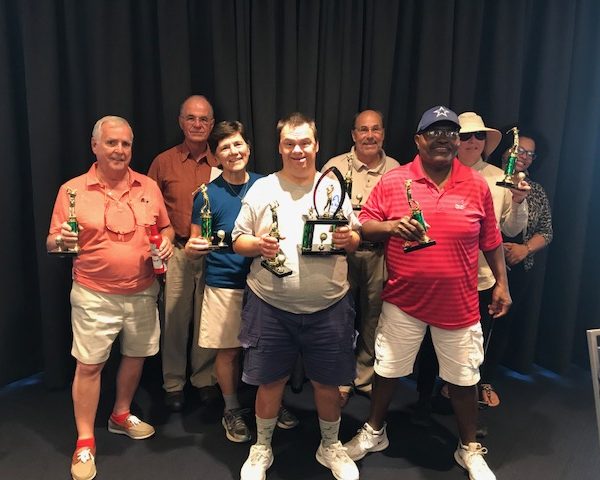 Congratulations to Ed's Incredible Team for earning Top Team. Ed also earned Top Player!
SPECIAL THANKS TO
Barbara and Danny Armond
Ricky Broussard
Shirley Brothers
Deanna David
Ralph DeVaul
Paula & Jon Franklin
Lorin Furlow
Norine Jaloway-Gill
Tom Hutchinson
Edward Jaloway
JP Mike Merkell
Patrick Monaghan
Ben Perez and Family
Phillip Rodriguez
Georgeanna Santarelli
Roger Stuksa
THANK YOU TO OUR SPONSORS