Annual Meeting and Board Member Election
Join us for our annual meeting and board member election on March 31st at the Alvin Senior Center 2pm to 4pm. Learn more about this year's candidates for the Board of Directors.
Newsletters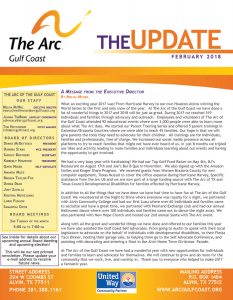 Our February newsletter is available now!
See newsletter for information about the upcoming annual meeting and board member elections. This will also be the last printed newsletter. Please update your information to ensure you receive future newsletters via email or check our website.
Click Here to download: The Update Feb 2018 Newsletter
Arc Calendar
Sun

Mon

Tue

Wed

Thu

Fri

Sat

1

2

3

4

5

6

7

8

9

Make Your Child's Introduction Page

401 E Cedar Angleton, TX 77515

401 E Cedar Angleton, TX 77515

https://arcgulfcoast.org/event/make-your-childs-introduction-page/

No additional detail for this event.

10

11

12

13

14

15

16

17

18

19

20

21

22

23

24

25

26

How SMART Are Your Child's IEP Goals

100 Oyster Creek Drive Lake Jackson, TX 77566, Lake Jackson, TX 77566

100 Oyster Creek Drive Lake Jackson, TX 77566, Lake Jackson, TX 77566

https://arcgulfcoast.org/event/how-smart-are-your-childs-iep-goals/

No additional detail for this event.

27

28

29

30

May

May

May

May

May