Pastry Puffins Fundraiser
Support the Arc through our Pastry Puffins Fundraiser!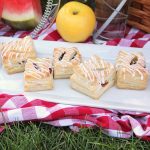 Our Pastry Puffins Fundraiser is going on now! You can now order online via our Fundraiser Shop and checkout via PayPal account or credit card.
We are accepting orders until November 29, 2017 and your order will be delivered to our office on December 15, 2017 – we will notify you when your order is ready to be picked up.
What are Pastry Puffins?
Hundreds of thin layers of puff pastry dough and a generous dollop of a scrumptious filling create a delicious pastry that is irresistibly light and flaky. The Pastry Puffins® are freezer-to-oven ready for your baking success.
We also have Puffcrust Pizza!
PuffCrust Pizza is a one-of-a-kind pizza experience. The artisan Puff Pastry crust and unique lattice top is infused with real mozzarella cheese and pizza seasoning. Delicious meats and cheeses are inside making this a Pizza-Lover's delight.
Thank you for supporting The Arc!